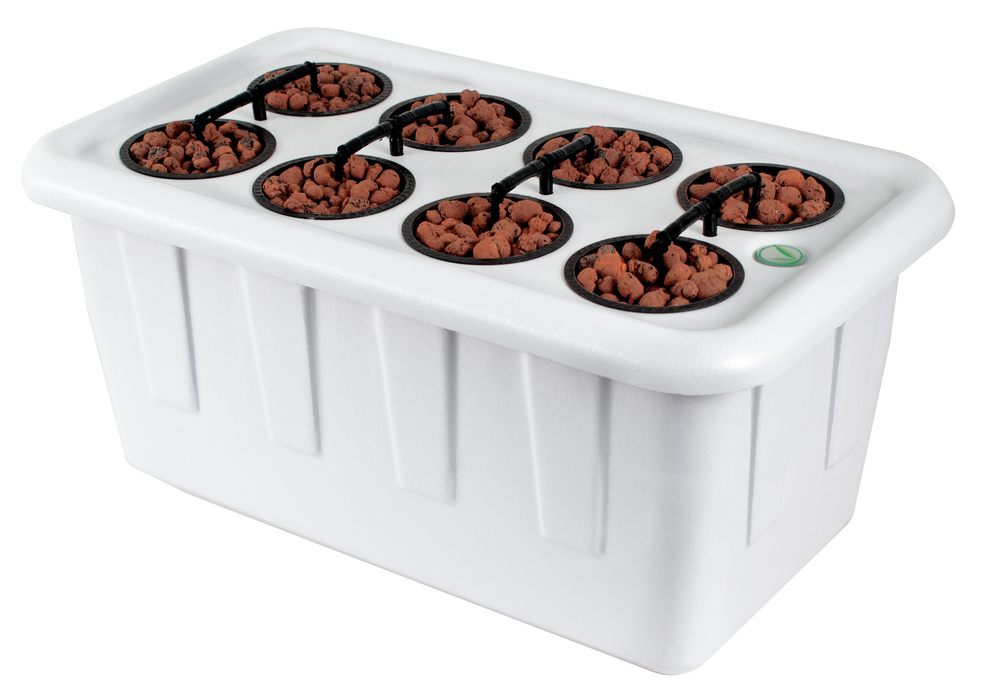 SupePonic 8 Site Hydroponic System
Save

Liquid error (snippets/product-badge line 32): Computation results in '-Infinity'

%
SuperPonics 8 Hydroponic Grow System
The famous fully automated SuperPonics 8-Plant Hydroponic Grow System Complete grows your plants up to 5x faster, safer, and easier than any traditional hydroponic system. SuperPonics Hydroponic Grow System technology fuses the best of hydroponics by combining automated top feeding, deep water culture, and bubble and AeroPonics..
The SuperPonics 8-Plant Hydroponic Grow System Complete grows faster than any single method of hydroponics and more safely due to the fact that there are always two independent hydroponic grow systems operating at the same time. Even if one system malfunctions, your plants will still thrive! Growing your plants with both Top Feed Watering and Bottom Feed oxygenation will create extremely happy plants with rapid growth rates and HUGE yields.
Included Components
SuperPonic 8 Hydroponic Grow System
Your fully automated SuperPonics 8-Plant Hydroponic Grow System will grow faster than any single method of hydroponics. This hydroponic system combines both top feed watering and bottom feed oxygenation causing your plants to thrive and grow at rates you truly never thought possible. You are also adding safety to your grows because if either method fails, your plants will still be getting more love than they do from competitors' single method systems.
The custom molded reservoir and lid are UV stable and easy to clean. Plus, it comes fully assembled – just plug in and add water!
8 Net Cups
These 3″ cups give you the ability to nest up to 8 plants!
Premium Air 2 Air Pump & High Output Air Stones
Eco Air series pumps are very quiet, yet extremely powerful. This strong and durable pump is widely used to provide oxygen in hydroponic systems and they are convenient to operate without oil or noise.
132 Gallon Per Hour Water Pump
Our 132 GPH (gallon per hour) pump is the heart and flow of our unique hydroponic systems. Its powerful, oil free high magnetic rotor, ceramic shaft, and bearing ensures reliability and quiet operation. Plug it into its designated timer and you have your own personal robotic gardener making certain that your plants never go thirsty again.
Analog Single Timer
Our light timer gives you the power to control the sunrise and sunset automatically, allowing you to control the season, and ultimately dictate whether your plants vegetate or produce beautiful fruits and flowers. Your Feeding Timer allow you to water your plants evenly and regularly without lifting a finger. Say hello to stress free vacations!
Upgrade Package
SuperPonic Upgrade Package
NOW FEATURING – LOTUS Premium Plant Nutrients
LOTUS Premium Plant Nutrients were scientifically developed by Northern California growers with decades of medicinal plant cultivation experience. LOTUS Nutrients is a more complete, 3 part nutrient line that replaces the need for complex 8-10 part recipes. The pure, 3 part system gives your plants everything they need to for development from seed to harvest, giving you unmatched results in flowering and fruiting plants. Specifically formulated for medicinal plants and comprised of 15 unique raw, natural ingredients including 13 essential macro and micro elements as well as raw materials including seaweed plant extract, humalite, and plant protein hydrolysate. LOTUS Nutrients are 100% water soluble formula milled and blended to provide perfect consistency and contains no binders, fillers, or dyes.  The LOTUS Starter Kit comes with Pro Series Grow, Boost and Bloom nutrients and will get you growing seed to harvest from day one!
General Hydroponics pH Control Kit
Is your pH off today? Well, it won't be if you use our pH Control Kit made by General Hydroponics. The kit contains 8 ounces of pH Up, 8 ounces of pH Down, 1 ounce indicator and vial. Each system comes with this kit that keeps your reservoir contents in perfect harmony.
TDS Meter
Is your water source suitable for hydroponics? Did you add the appropriate amount of nutrients? Find out quickly and easily with this digital Total Dissolved Solids Meter. The TDS-EZ has a large and easy-to-read LCD screen. The translucent blue housing is strong and durable and includes a convenient color chart explaining TDS values related to water purity.
Rock Wool Cubes
What is rock wool? Rock wool is spun granite and wicks like nothing you have ever seen before. Roots find a nice comfortable healthy home in our cubes and once they get their legs, they easily poke through to find, and latch onto the surrounding course, porous clay rocks to start a healthy and stable foundation.
Clay Grow Rocks
The simple addition of this reusable secondary medium translates into more robust plants that will ultimately lead you to greater yields. By giving your roots a course, porous, and absorbent material through which to weave, you are providing a much more solid and stable foundation, allowing your plant to grow thicker, bigger, and stronger.
SuperCloset Vs. Other Grow Cabinets
SUPERCLOSET
OTHER GROW CABINETS
WHY SUPERCLOSET IS SUPERIOR
AIR FLOW AND LIGHTING
3 Separate 110cfm Fans
1 or 2 small fans, or 6 inch blower
By using 3 smaller fans, not only are we keeping noise to a minimum, we are also enhancing your ability to regulate your light's & cabinet's internal temperature. 6″ Blowers are a loud and cheap alternative that offers you no temperature regulation, or CO2 control, and are extremely loud even when used with a muffler. SuperCloset advanced beyond the single blower set up in its systems over 9 years ago.
Closed Loop Air-Cooled Lighting
Filter to Light to Exhaust
The air-cooled lighting system should ALWAYS be separated from your exhaust system as it is in SuperCloset systems. This creates greater flexibility with your grows, including the ability to administer CO2 and to gain better control over the temperature of your light and system. In the winter months, you are able to turn one of the fans off to heat up your cabinet, or in the summer time, turn both fans on, thus cooling your lights. Unless in extremely low temperatures, your HID light should ALWAYS be cooled or it will create dangerously high temperatures inside of your system. However, you do not want your exhaust fan on during CO2 dispensing because the CO2 will exit the system before the plants are able to effectively utilize it. Filter to light to exhaust designs do not permit you to cool your light while not exhausting, therefore making CO2 administration an impossibility. This is a cheap and lazy design, which we abandoned over 8 years ago because of these issues, that our competitors have somehow overlooked. It helps to have designed grow cabinets, grow rooms, and now greenhouses, for over 10 years. Experience grows success.
SuperCool Tube Reflector
No Tube or Cheap Imitation
Not all glass is tempered the same and you definitely do not want to try to cool a large chamber of hot air around the bulb due to the fact that it is ineffective and inefficient. When growing in cabinets or small spaces, it is necessary to have a SuperCool tube so that the air adequately flows around the light, and ONLY through the light.
4 inch Internal circulation Fan
No Fan or 6 inch Fan
When growing in small spaces you want passive internal circulation. A 4 inch fan works far greater and gives you more growing space. A larger 6 inch fan may seem preferable, which it is in our SuperRooms, but in cabinets it most definitely is not. Your plants will go in to shock and stunt as a result of the suffering caused by the harsh air blowing on them. SuperCloset's diligent research and development department do not allow rookie mistakes like this to make it through to our final products. Internal circulation is an absolute must, but passive air provides the greatest yields. Would you rather have a picnic with a nice easy breeze or a tornado? (Your plants would too.)
PhantomDigital & Dimmable Ballasts
No Brand or Knock Off Ballast
Using a reputed and reliable ballast is extremely important. The ballast powers your light, which in turn powers your plants. Knock off ballasts are unreliable and inconsistent putting all of your grows at risk. It is also necessary to have a dimmable ballast so that you can regulate your lights' output. Phantom Digital Ballats offer superior performance and reliability over the "cheaper" option used by our competitors.
HYDROPONICS
SuperPonics
Bottom Feed
In order to achieve maximum root growth, plants must be fed from the bottom up AND from the top down. SuperPonic systems fuse hydroponic technologies by always including more than one proven method. Our systems combine Deep Water Culture AND a Top Feed Drip System. The combination of more than one method provides vigorous growth and added protection against any unfortunate system malfunction. The systems used by some competitors use only one hydroponic method, which provides no protection and causes nutrient build up at the bottom of the reservoir where your plants can't make use of them. SuperPonics grows plants up to 2-5X faster and bigger and is the world's easiest and safest way to grow hydroponically, period.
Custom Superponics UV Protected Plastic Reservoirs
Cheap Brand's thin Non-UV Resistant Plastic
SuperPonic Systems are the only custom molded, insulated thick, "food grade," UV stable systems available. Don't subject yourself to thin plastic that heats up and kills your roots or produces potentially harmful "off" gases or unsightly reservoir yellowing. Grow with the Best. Grow with SuperPonics.
25 Gallon Custom Reservoir
10-15 Gallon Reservoir
Larger reservoirs mean less maintenance and stabler nutrient and pH levels. Smaller reservoirs are higher maintenance due to your having to constantly manage high TDS and pH fluctuations. SuperPonic systems can be left unattended for up to an entire week and are the only systems with an included easy drain valve and tube. SuperPonic Systems are the highest yielding AND the lowest maintenance.
Re-Usable Clay Hydroton Stones
Cheap Rocks or Coco Mon
All professional growers use hydroton grow rocks for a reason. They provide the perfect blend of aeration and support and they can be re-used forever. Coco Mon needs to be replaced after every harvest and offers no plant support. Yikes!
Lotus Premium Plant Nutrients
Partial Nutrients, Complicated Recipes, Non-Proven Cheaper Line
You need all phases of the entire nutrient package in order to achieve the best results. SuperCloset gives you EVERYTHING your plants need in order to grow healthy, happy, and strong. This process is also made simple with the included feeding instructions, which completely take the guesswork out of your growing.
SAFE AND SECURE STEALTH CABINETS
18 Gauge "Infra Cool" Powder Coated Steel Cabinets
Flimsy Thin Metal, Plastic, or Wood
Grow safe and secure with SuperCloset in the thickest metal cabinet available on the market. With its powder coated black lining, it is cool to the touch and can fit in anywhere. Supercloset's are famous for their furniture feel and look. All Supercloset controls are on the back (not front!), to retain a beautiful clean appearance that can fit anywhere in your home or apartment.
Stable Cabinet – No Wheels
Dangerous and Inconvenient Castor Wheel
While having wheels on your system may seem like a benefit, it is actually a huge nuisance. The small wheels are prone to snapping and prevent you from putting any weight on your system. Imagine your frustration as your cabinet constantly rolls away from you as you lean on it ever so lightly in an attempt to refill your reservoir. SuperCloset systems are easily manuevered without the need for "problem causing" castors. Don't be fooled by false benefits.
Triple Locking Doors
None, or Single Locking Doors
SuperCloset systems are the safest and most secure cabinets available today.
Reflective Removable Magnetic Paneling
Permanent Mylar Walls
A clean, unused picture of a mylar or any other reflective sheeting in a cabinet may look nice in an ad or on a website, but you would hate to see it after a harvest. Reflective or mylar walls are an invitation to moisture and mold behind the sheeting, which has to be torn down, cleaned, then taped up after every harvest. Mylar also tears easily and is not reusable. Again, 10 years ago we made this mistake and thankfully found the perfect solution. SuperCloset magnetic reflective panels offer ample lumen re-direction and are also removable, maneuverable, and easily cleaned and replaced. A Clean environment means clean healthy plants.
COMPANY
Lifetime Customer, Technical, and Grow Support
Lackluster or Non Existent Support
SuperCloset has a great many experts on horticulture, hydroponics, and of course our products, and when you purchase a system you receive lifetime customer, technical, and grow support from our knowledgeable and helpful staff. We stay with you well after purchase to make certain that you have a great growing experience with your SuperCloset. Quite simply, no other company offers this level of support.
Reputation and Company Longevity
New Entrants Into Hydroponics
SuperCloset has clearly withstood the test of time. Before the rest, always the best. We have been here and will continue to be the leader in hydroponic growing. We have seen many companies come and go during our 10+ years with a perfect "A" rating from the Better Business Bureau (B.B.B.) Grow Smart – What would happen to your warranties when the competitor is no longer around because of the design mistakes they made? How professional can your support be if it seems like they have never even grown in their own systems and aren't aware of their design flaws? Grow safe. Grow easy. Grow Super. SuperCloset is always here to provide you with top quality systems and support.