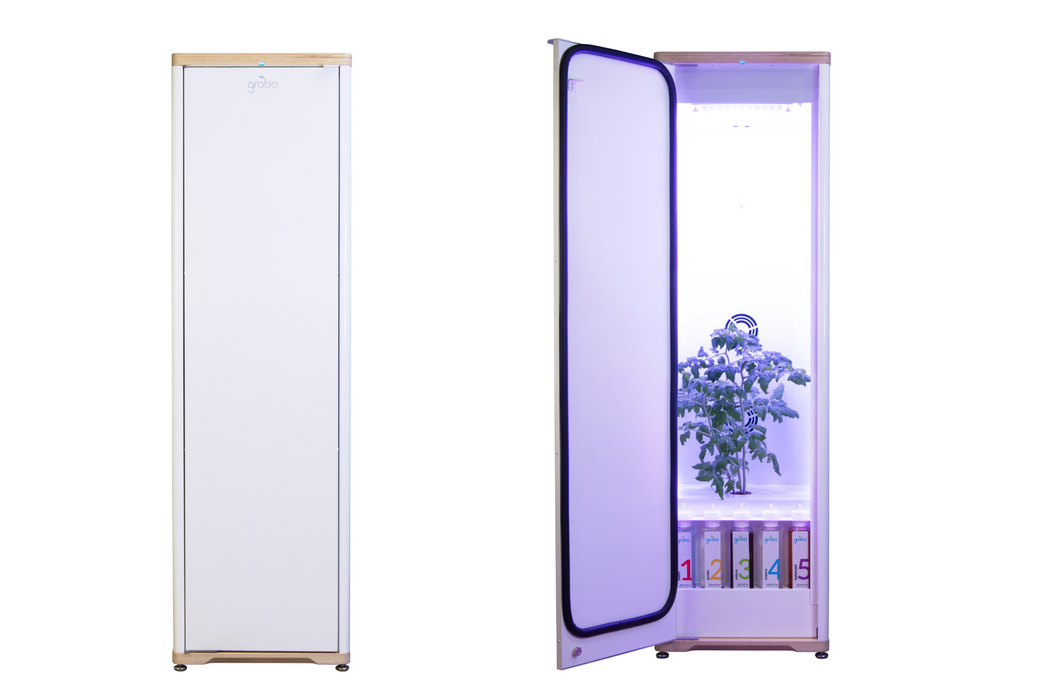 Grobo Solid Grow Box
The ultimate growing experience!
What does the Grobo Solid feature?
-Advanced Sensors
-Full Spectrum LEDs
-Smell Reducing Carbon Filter
-Dual Intake Fans
-Nutrient Dosing
The Grobo Solid Grow Box makes it very easy to get started on your growing journey. This Ready-To-Grow system has everything you need to start growing immediately!
Get Started in 3 Easy Steps!
Setup Your Grobo--> Add Your Seed--> Enjoy Your Harvest
 The Ready-To-Grow system comes complete with a free grow kit that includes Bottles 1 & 2, used to adjust the PH of your plant and Bottles 3, 4, & 5 which are used to feed your plant. The smell reducing carbon filter, which eliminates any odors so you can grow worry-free is also included. Additionally, a Coco Pod is included for your seeds to grown in, so you're all set!
What Can I Expect?
-Fast Free Shipping for your Grobo
-Easy Ready-To-Grow System
-Optimal Growing Environment
-High Quality Yields (up to 3oz)
How Does it Work?
Tech Specs
Specs
Dimensions
Width: 14 inches (35.5cm) | Depth: 14 inches (35.5cm) | Height: 48 inches (122cm) | Grow Space: 28 inches (71cm)
Weight
Grobo: 90lbs (40kg)
Body Material
Color: Gloss White | Material: Cold Rolled Steel
Requirements
Top & Base Material
Color: Natural | Material: Multilayered Baltic Birch Plywood
Lighting
Proprietary 8-Spectrum 150 Watt LED light
Electrical Requirements
110V - Grobo plugs right into the wall just like any other appliance
WiFi
Grobo requires a WiFi connection to function properly.
More Details
Warranty- 1 Year
Firmware & Software
Your Grobo will regularly received over-the-air software updates that add new features and enhance existing ones over WiFi.When the update becomes available, it will automatically be sent to your Grobo. No manual installation required. All you need is to be connected to your WiFi network.
App
Access your Grobo and track your plant's progress through the Grobo App on any desktop, laptop, tablet or smartphone.
Sensors
Grobo uses a variety of sensors that continually collect and transmit data regarding your plant's growing environment.
EC Sensor: EC stands for electrical conductivity. This sensor is used to measure the level of nutrients and solids in the water. The data is then used to adjust the level of nutrient dosing in your Grobo.
pH Sensor: Maintaining a consistent pH level within the optimal range is essential for your plant to grow healthy. While tedious for an individual, Grobo makes it easy. Our sensors monitor and adjust your pH automatically if it is detected to be outside of the optimal range.
Water Level Sensor: Three water level sensors in your Grobo's reservoir are used to measure the level of water in the tank. At various stages in your plant's growth cycle the water level will need to be adjusted for optimal growth. These sensors ensure your water tank is filled to the correct point every time.