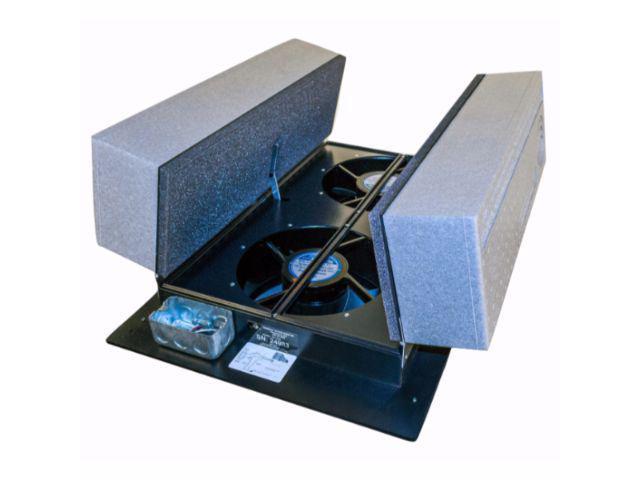 Attic Fans vs. Whole House Fans
Attic Fans vs. Whole House Fans
How do you know which fan- an attic fan or a whole house fan works best for your house? Well let's take a look at the differences between two in order to find the best fit.

The Attic fan is an invention that puts a lot of science and technology into work. The fan works by blowing hot air out through the roof-level or gable vent; afterward, fresh air is pulled inside through soffit vents. An Attic Fan works by replacing hot air and swapping it with cool air due to the choked up environment of most attics.
Although it is sometimes turned on by a manual switch, it is automatically switched on by a thermostat which monitors any change in the room temperature. The Attic fan however can be mounted either on the roof or gable, to allow easy air entry. Attic Fans are used in warmer months when the attic temperature can be as much as 49°C. In a situation where it is hot and uncomfortable outside, Attic Fans can make your home a cool place to relax.

Since Attic Fans reduce the attic's heat, they help extend the life of significant housing components like mechanical devices, wiring, roofing, and framing.

Attic Fans are powered in a variety of ways. Many Attic fans use electricity. However, there are attic fans that are powered by mechanical means. Some Attic Fans use solar panels or wind to function, and they are easy to operate.

Generally, Attic fans are energy efficient. Average attic fans draw less than 300watts, and they are easy to install. You might not need a professional to help fix your Attic Fans. Besides, they are pocket-friendly; they are less expensive. They also cost less to maintain.
A Whole House Fan is a type of fan that vents into a building's attic. It is modeled to circulate air in a home or building. Whole House Fans are installed in the ceiling of the central hallway. These fans work by pulling air from open windows and exhausting them through the roof. This strategy allows fresh and cold air draws in through the open windows in a bid to reduce the room temperature. Depending on the weather, the size of the fan, and the plan of the house's floor, these fans can turn in 3 to 6 air changes per hour. 

Using Whole House Fans can substitute for air conditioners in most environments. The rate of air-change will depend on the climate, and how much you will depend on the fan to cool your home. Whole House Fans draw in cooler air through the windows and they are most active during the cooler times of the year. They are capable of cooling a whole house within an hour.

Whole House Fans are efficient alternatives to air conditioners. These fans cover more area within the house. Another exciting thing is that Whole House Fans increase house resale value. In a way, Whole House Fans can also add some touch of beauty to the outlook of the home. Having one of them in your house could be fanciful.

So, what's the verdict? 

Both Attic Fans and Whole House Fans are effective at cooling the house. Choosing between them should be informed by the climatic condition, financial buoyance, and structure of the house. Whichever you opt for between the two, rest assured it will give your home a more relaxed atmosphere.